USB-Base laser tag programming device
With shipment Delivery method will be selected by customer for $0.00
Description
This device is designed for configuration of performance characteristics of laser tag weapons of 4 - 9 generations and additional devices. Its distinctive feature is using of USB interface for PC connection. It combines a small size, universal connection technology and has no need for built-in power supply source.
The advantages (compared with old IR-Base):
Small size 2.8x2x1.2 in (7 x 5 x 3 c)
Low weight 1.6 oz (45 g)
No need to charge 
No need to use USB-COM adapter
Improved compatibility with OS Windows (including Windows 8.X and Windows 10) 
Uses the original USB driver 
Small size and versatility allow you to use it at the game area 
Uses USB technology increases the speed of data transmission
One of the advantages is that the USB-cable or adapter can be purchased at any computer store. So, you can immediately connect your USB base to any computer (including a netbook or laptop). All you need is simply to connect the USB base to your computer via the USB cable, select and save your own settings and enjoy playing laser tag. 
How to use laser tag USB-Base
Connect the USB base to a PC or laptop. Install the Laser Tag Configurator software. Drivers for USB-base will be installed automatically. Locate your laser tag gun and headband in front of the USB base as illustrated in the figure.
1. Turn on your laser tag gun in administration mode. To do so, turn on your laser tag gun and simultaneously make the gun recharge by pushing the special recharging button or pulling back the bolt handle. You will hear the special sound of admin mode.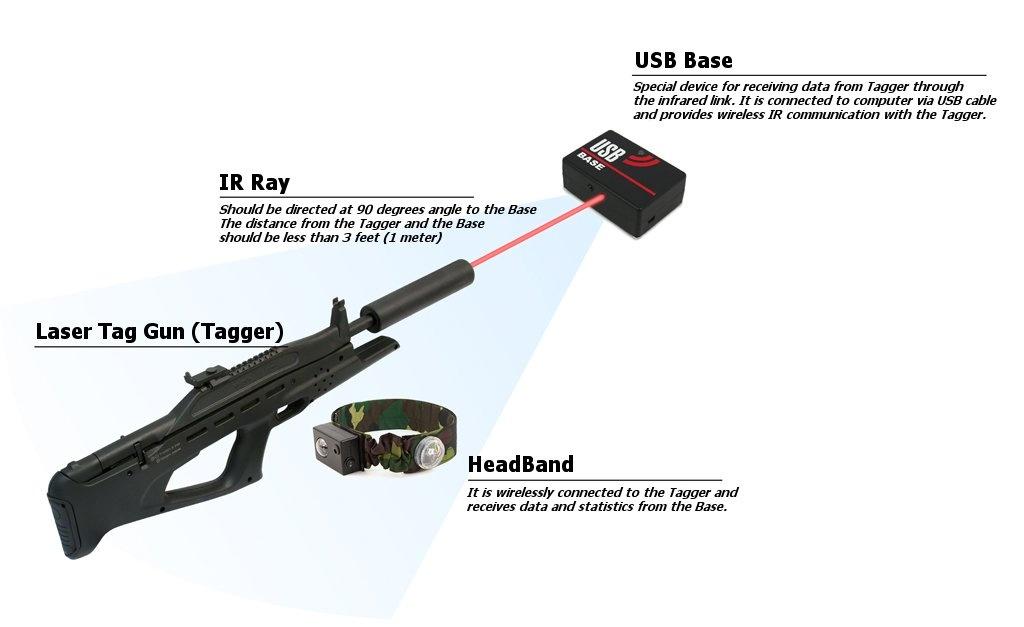 2. Point the muzzle of the gun in the center of the base, and locate the headband exactly opposite the base within 3 feet (1 meter). When the gun is properly connected, the headband will start blinking LEDs, and the software will display the firmware version and Tagger type. 
You can check all preferences that were set in the equipment by clicking on the software "Read" button. You can change the preferences of the equipment with the suggested settings or your own manual settings.
3. After making settings, click on the "Save" button. The Headband will flash for few seconds and that's all. Everything is done. Please make sure that you have set unique Player IDs and proper team colors to all Taggers.
Reviews
There are yet no reviews for this product.